Service Bodies -
Maintainer 8-1-084 Body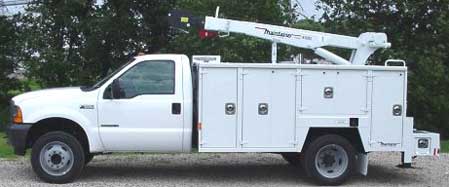 Maintainer's service bodies give you a noticeable advantage from the start:
Larger storage space, more cubic feet than any other manufacturer.
Recessed single piece doors-no water traps.
D-Ring stainless steel handles-studded for easy replacement.
Heavy duty stainless steel cast door hinges-no door sag.
Door seals are metal backed automotive bulb type providing long life & superior sealing.
Custom body sizes.
Alternate Views: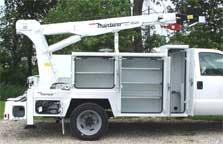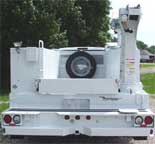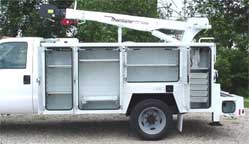 Click here for the line drawing for this unit.
Standard Features:
Galvannealed body to resist corrosion
Doors are single peice construction to avoid water traps
Three point keyed alike chrome D-ring latches
Gas shock door holders
Underbody is undercoated to resist corrosion
48" Wide center deck with 1/8" thick deck plate
Rear deck valve well to house valve and outrigger controls accessible out rear
Closed center load sensing
Two hydraulic rear outriggers with pads
One curbside front outrigger on 5,000 & 6,000 LB. crane units
Rear deck plate step bumper
I.C.C. lights, reflectors and mud flaps
Underbody with drains, is ribbed for reinforcement
Proportional control on crane
Optional Features:
Pressurized storage compartments
Manual jib crane extension
Hydraulic driven air compressors and accessories
Hydraulic driven generator and accessories
Gas and diesel driven welders
Slide-in or swing-down tail gate
Cooling and heating packages for hydraulic systems
Fixed or adjustable shelving
Roll-out drawers and trays
Parts book dividers
Compartments covered with deck plate
Oxy/Act storage copmpartment
Center deck slide top covers
Backup alarm
Hydraulic quick disconnect/flow meter
Vise and grinder brackets
12/24 volt jump start with cables
Extertior light package
Interior compartment lights
Flush mount tie downs
Mini lube packages
Two tone paint
Heavy duty push workbench bumper
Spare tire bracket
CUSTOMIZATION